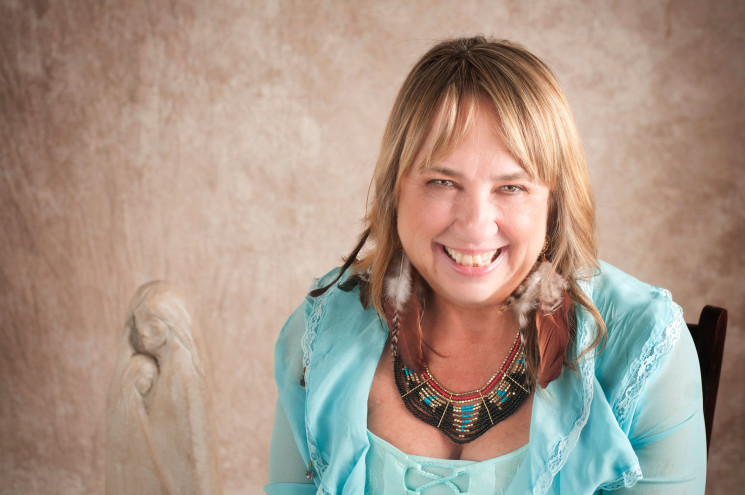 Donna has always had an innate ability to recognize and nurture others' gifts and encourage them to take steps to reach their dreams.  She is an inspirational force who has been described as calming, an earth angel, a wise woman, a peacemaker, a spiritual teacher and mentor, a vibrational catalyst, a visionary, an evolutionary leader, a way-shower; a healer of souls. She is a Spirit Blessings Coach, a transformation facilitator, who helps you to breathe life into the dream of your Soul.
As a child, many people noticed something different about Donna. They could see the depth of the love, and genuine acceptance, caring and kindness that emanated from her. And, from an early age, Donna knew she was here to make a difference. In her youth, a vision came to her in a dream to show her that she would one day be helping many people to reconnect with their Source and Soul and remember the magnificence of who they truly are.
As she started on a conscious spiritual journey, and worked closely with gifted mentors, spiritual teachers and leaders in their fields, she began to remember and recognize her own gifts and talents.
She came to understand how she could use these spiritual gifts to help others recognize their gifts, awaken to their magnificence, learn to love themselves and fully embrace the miracle of their lives.
Later, Donna was guided to spend time in silent retreat and in nature. It was during this time that she opened to the place of Divine Love and Grace and Infinite Possibility and Potential. She learned the secrets of enlightenment and was given the ability to hold and transmit an energetic field of Divine Love to others so they may awaken and remember their Infinite Potential and live in the flow of Divine Grace.
With her expansive experience working with people from all walks of life, her innate wisdom and her diverse education and training, Donna possesses a deep understanding of people and human nature.
Using this guidance, she will empower you to awaken spiritually and pull out of the spiral of the self-improvement game, so that rather than continually seeking and trying to fix yourself, you may enjoy and fully embrace yourself and your life.
Donna has developed meaningful, uplifting, practical, down-to-earth and inspirational programs that assist participants to feel good about themselves and their lives. She shows you how to fill the void of what you may feel has been missing, helps you embrace your emotions, and love and feel good about who you are and about your life. She shows you how to come home to yourself and supports you in taking the action steps needed to live the dream of your Soul that resides in your Heart.
She holds you in the higher vibrational field of Divine Love, so that you may shift your own vibrational field and reclaim your inner power. You remember and awaken to your Divine Nature.
Donna is here to assist you to remember your Infinite Potential and shift your vibrational patterns to step into a life of PURPOSE, PASSION, FREEDOM and JOY while living in the ABUNDANT FLOW of DIVINE LOVE, GRACE and INFINITE POSSIBILITY.
—-
Donna Packard, M.Ed. has served as a personal and professional development coach, trainer and consultant for more than 20 years.  She holds a Master of Education degree from Lesley University and a Certificate of Advanced Graduate Studies in Education Media and Design Technology from Full Sail University. She earned a Life and Professional Coaching Certification from the University of New Hampshire, and a Bachelor of Arts in Transformational Psychology from Vermont College of Norwich University. She also participated in the Goddard Experimental Program in Further Education at Goddard College where she intensively studied multiple energy healing modalities and spiritual paths, counseling and psychology. She worked in the field of human services in many capacities, including directing an education program for those experiencing homelessness and designed alcohol and drug awareness, prevention and intervention programs. She is a higher education professional who has designed curriculum and taught at a number of colleges and universities, as well as works in an innovative program on the leading edge of educational change.  Additionally, Donna is a certified Breathwork Facilitator, an Initiated Divine Grace Giver, and Light Initiation Practitioner. She is an author, singer-songwriter, musician, and recording artist. Donna's graduate thesis and focus of expansive research was on "Utilizing Sound and Music in Healing and Learning". Donna served on the Board of Directors of the Interdisciplinary Music Research Association which was founded by Barbara Hero (http://www.lambdoma.com), who is known as the 'grandmother of sound healing". Donna offers programs and products that are uplifting, inspiring, and down to earth, while assisting in the expansion of consciousness and betterment of our world.